Play the guided tutorials whenever you'd like.
About The Tutorials
Some pages in Crescat have tutorials that guide you through its important features.

Playing the Tutorials
You can play a tutorial for the page you're viewing by clicking your profile details at the top of the screen, then clicking on Show Tutorial from the list that drops down. If Show Tutorial isn't listed, that just means there is no tutorial for the page you're viewing.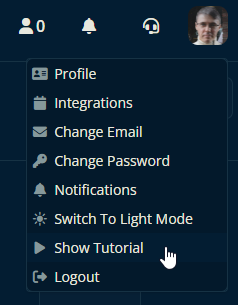 Note
If the option isn't there, the page doesn't have a tutorial. In that case, try the knowledge base instead.
The tutorial will then pop up and start presenting various aspects of the page. Keep clicking next to proceed through all the steps or click the X in the upper right of the tutorial card to quit the presentation.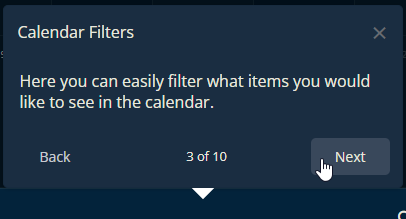 /
Let us know below if this article helped you understand how to start the tutorial for the pages that have one.
All the best from us at Team Crescat!